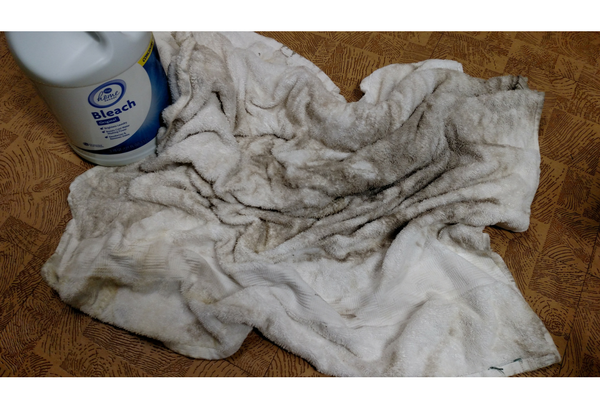 It appeared as if from God, wadded up on the floor of the laundry room.
Mind you, that's also the furnace room and the water heater room and the catch-all storage/work room that my kids always referred to as MomLand.
Don't be getting ideas about some lovely Pinterest-worthy laundry space with gleaming marble tile and state-of-the-art equipment and hand-crafted Shaker storage baskets to accommodate every imagined need.
Don't be thinking MomLand is some sort of peaceful maternal oasis where I iron socks and underwear and lovingly fold lavender-scented sheets as the sun rises and the chickadees sing. We're talking a dark dump, down in the basement. The wet filthy towel was right at home.
And I should be grateful – that towel was right where it needed to be. It wasn't shoved under a bed or tossed beside the couch or left to molder in a closet (not that such things ever happen in my home).
It used to be white.
It used to qualify as a Company Towel, the nice thick kind you dig out of the linen closet for houseguests (since the gray fraying ones you use yourself would reveal the sorry truth of how you really live).
Hmmm. I'm reminded of my Grammy, who left behind a dresser stuffed with clothing she'd never worn — gifts that were too nice for anything but special occasions.
Perhaps life is special occasion enough? Perhaps we need to use the damned company towels ourselves.
Just not for cleaning the garage floor, or whatever sorry fate befell this one.