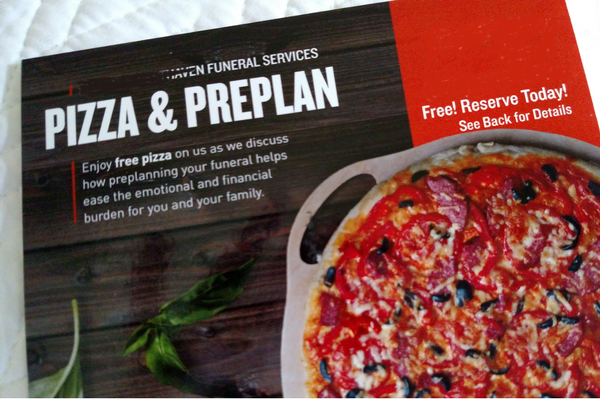 The local mortician is a mover and a shaker – he's kicking things up out there by the interstate at Sweet Memory Haven Funeral Services and Sleep Gardens.
There, you can rest in the bosom of the baby Jesus without losing touch with the bustle of commerce. With a stunning view of the Rocky Mountains, you'll feel the excitement as 18-wheelers rumble past carting the stuff of life from Cheyenne to Colorado Springs — diet soda and toilet paper and dandruff shampoo. Things that matter.
On Mother's Day, the Haven hosted a tea party. Those left behind could bring Mom's heirloom teapot and drink a toast to her out on the terrace. The event featured a junior high string quartet, the county Dairy Princess, and free packets of sunflower seeds.
On Memorial Day, the Veteran Harley Patriots of Freedom donned their leathers and rode in state thru the Gardens, muting their mufflers in respect. A choir sang rousing hymns and anthems, and everyone got a flag and a free hot dog.
At Christmas, a holiday party for the year's clients (or, rather, their survivors) included merry carolers and horse-drawn sleigh rides through the Gardens to visit loved ones. Commemorative ornaments and candy canes made festive door prizes.
So I wasn't surprised to find plans for a funeral parlor pizza party in my mailbox. What better, in the doldrums of winter, than to make your own final arrangements over a slice of pepperoni & sausage? Free, even?
It is rather unfortunate that the postcard pizza looks like road kill.
I predict an Easter egg hunt, come spring. Prizes for children who run through the headstones and unearth the most. A costumed Easter Bunny distributing baskets and hugs. A Die-Your-Own egg station.
You heard it here, first.