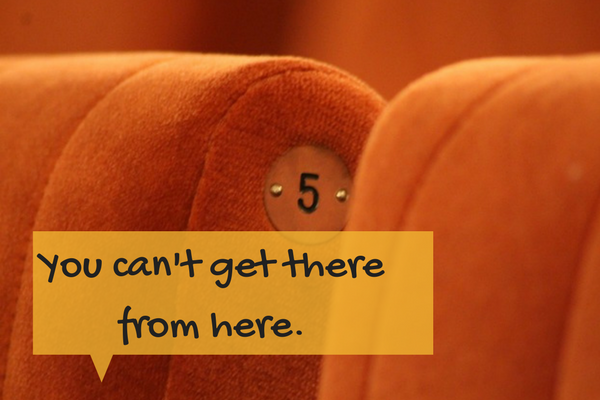 Perhaps it depends on beauty as seen by the eye of the beholder: Boobs or butt first?
I'm attending a movie at a small indie theater earlier this week.
After saving a seat for myself, I venture out to the lobby to schmooze with friends. Returning with a glass of wine (such a civilized venue!), I find that the row has filled up.
There are several folks to climb over if I'm to reach my place (imagine an economy seat on a low-budget airline, the knees of one row pressed against the backs of the next).
I stop beside my row and smile expectantly.
Nothing happens.
I make a grand gesture toward the empty seat in the middle, still smiling.
The row continues to ignore me.
"Excuse me!" I say, brightly. "That's my seat, there." My smile is now forced.
The first woman rolls her eyes and moves her knees 5 degrees to the left, opening an inch of space. The man beside her sighs heavily and moves his knees 5 degrees to the right.
Isn't the etiquette to stand and let people pass? To at least fake some courtesy?
They're plopped there as inert as yesterday's dog poop. Granted, they are old and large, but so am I.
I still have vitality, though, and some spunk. "OK, coming through!" I announce, holding my wine aloft and pushing in against the wall of resistant flesh.
I decide to face them rather than make them face my ass — it seems more polite. God knows you must be polite to yesterday's dog poop.
It's an elaborate lap dance. I weave and writhe down the line. I rub voluptuous body parts on strangers that I've never rubbed on Husband.
But the wine and I make it intact to my seat. I don't even curse (out loud).
Do you front, or back? She asked, ingenuously.