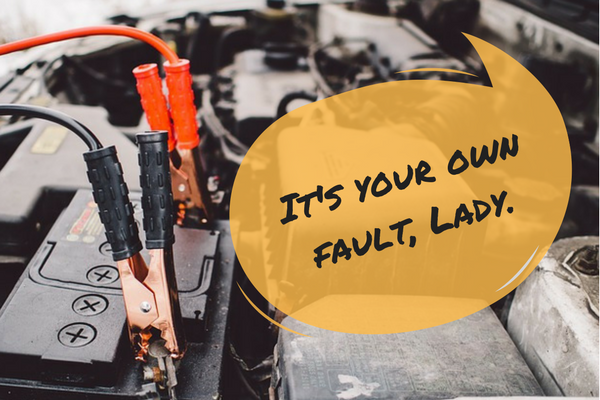 We all do it. Someone has a heart attack? We attack her again – she's overweight, she doesn't exercise. Someone has a stroke? He's an over-achiever, he eats red meat. Someone gets cancer? She doesn't get enough fiber. He used to smoke.
This gives us a secret little self-congratulatory thrill. We preen our feathers and revel in our superiority (or luck).
Humanity's pale dead-fish underbelly is never pretty.
It looks a lot like mine, actually. We won't go there.
Health is just the beginning. Financial stress? Employment woes? Social difficulties? Parenting failures? Face it — you're a loser with a capital L. Get with the program.
And I swallow all this crap. Personal responsibility and guilt? Unworthiness and shame? Bring it on! I know that everything is my fault.
It's raining? I'm sorry!
When the mechanic blames me for the fact that my car won't start for the second cold morning in a row, even I have had enough.
My car is old. And small. And dented (the dents annoy me but are not my fault, so I refuse to fix them; I accent them with bright flower magnets). Otherwise, it's in great shape. Presidential shape! That disreputable car has become a personal statement of sorts. I drive it 3 miles to work every day and another 3 miles home.
Which I'm told is the problem – I don't use it enough.
It's not that the sketchy dealership installed two faulty batteries in the past two years. It's not that they have a stock of duds to pawn off, or that clueless females driving old junkers are easy marks. How dare I imply such things?
They've nonetheless installed another free battery, now – surely an admission of guilt.
Admitting I should probably drive the car more is a small price to pay.
Wouldn't horses be easier?