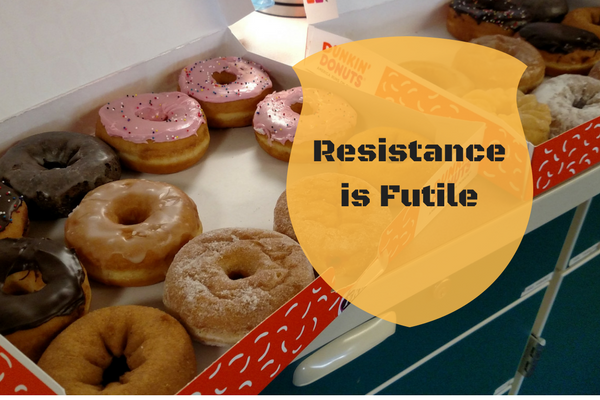 I don't even like donuts, particularly.
My comrades already eye me with suspicion, since I'm not fond of dogs or guns, either. This donut admission may push them over the edge.
Mind you, I'm not being righteous. My weaknesses are savory – crusty bagels loaded with cream cheese or flakey biscuits dripping with butter or thick pieces of toast with cheap peanut butter melting into all the crannies.
Then, I hear the free donuts call my name. And never just one.
Resolution takes a powder. Discipline gets a glazed look. Those Weight Watchers dues I've paid are apple frittered away (because throwing money at a problem always solves it. Nothing un-American about me in that respect).
My all-time favorite is your basic cake donut, preferably hot out of the fryer so it sizzles on your tongue, at some dive diner or a shop that actually makes them on premises.
I was shocked to hear that most chains just truck them in from central bakeries in the next state. Shocked! Gambling, in Casa Blanca? We live in depraved times — and I am so naive. That's why my comrades haven't reported me to the authorities, yet. My innocence protects me. They know I believe in happy old-world bakers hand-crafting donuts for me at 3:00 AM with secret traditional recipes.
I still have a thing about Santa, too.
But I know the earth isn't flat! There's that.
A friend turns to aversion therapy when work-place donuts hiss temptation. Get thee behind me, Cruller! She envisions people coughing over them all morning, fondling them with grubby fingers and leaving them uncovered for flies to crawl on.
She is thin. I am not. I brush the flies away and figure a few germs are good for the immune system.
Glazed or raised? Cake or baked? What's your favorite?